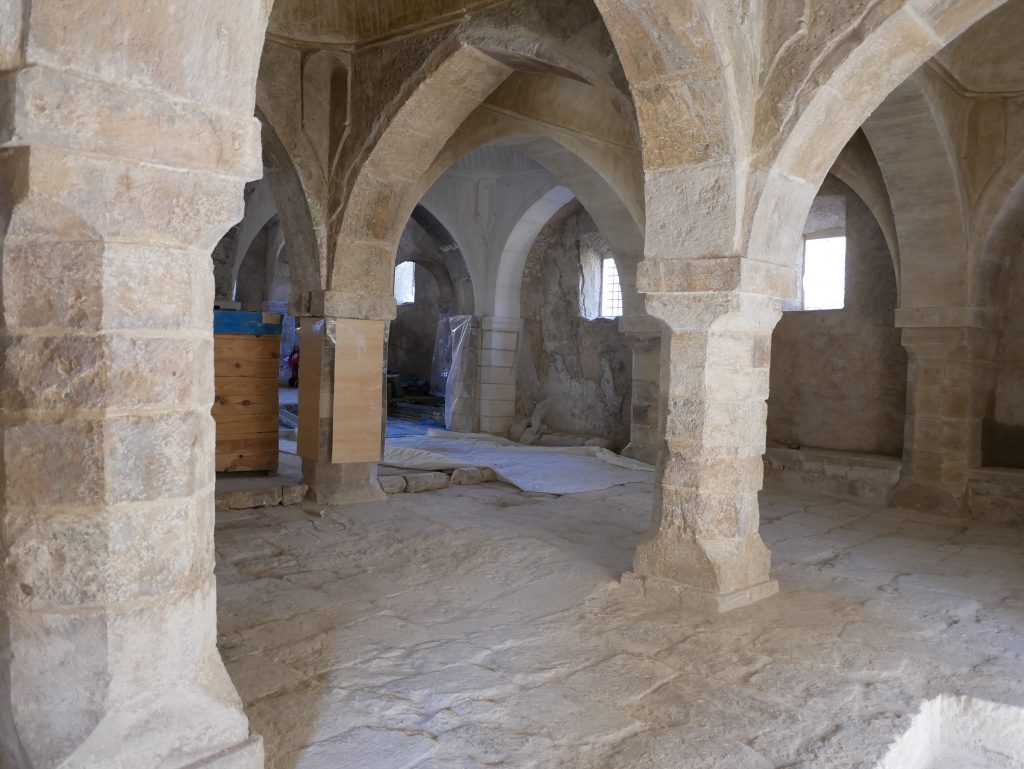 Address:

Alqosh, Nineveh Province, Republic of Iraq

Client:

ARCH – ALLIANCE FOR THE RESTORATION OF CULTURAL HERITAGE

Description of the work:

Restoration and engineering research, structural stabilization, evaluation of the research results
The work of the project of Rescue and Restoration of complex of the Prophet's Tomb shrine commenced in January 2018. The first phase of the project was focused on the implementation of the survey and its evaluation for the next procedure. The subject of the second phase of the project was focused on elaboration of the implementation project and its realization, the gradual restoration of this highly valuable monument.
The Shrine of the Tomb of Prophet Nahum is situated in Alqosh, the small Assyrian town probably older than 2800 years. Alqosh lies at the foot of a mountain range carrying the same name. The town is located in northern Iraq, about 45 km north of Mosul. Alqosh administratively belongs nowadays to the Nineveh province with Mosul as its capital. The name of the city is mentioned in the Old Testament in connection with Prophet Nahum who preached in Assyria between 726-697 B.C. and prophesied the end of the Nineveh. It has long been believed that Prophet Nahum was buried in Alqosh.
To ensure the rescue of this monument the Alliance for Restoration of Cultural Heritage (https://www.archinternational.org/) pro addressed GEMA ART because of its long-term experience with implementation of restoration projects in the difficult conditions of Iraq.
Phase I (2018)
The aim of the rescue works was the execution of the restoration and engineering research on situ, evaluation of received data and processing of the Proposal of the Shrine Reconstruction. The works on situ included the photogrammetric documentation and creation of 3D model of the whole area of the Shrine (see presentation), the static supporting of disturbed arches and masonry, cleaning of the area of rubble, storage and documentation of valuable architectural and historical elements.
Phase II (2018-2020)
During the second phase the works were commenced, they include: the stabilization of the object foundations, grouting and re-walling of cracks, repair and straightening of damaged columns and buttresses, exposing of ceiling structures and strengthening of the existing vaults, the reconstruction of the collapsed walls and masonry, the reconstruction of the ruined vault arches and vaults. reconstruction and insulation of the roof, including the execution of rainwater and drainage. The restoration of decorative and architectural elements, stone inscriptions, wooden and metal elements was continuously running during the carful reconstruction of the building structure.
Unfortunately, the works have been interrupted due to the global pandemic of COVID-19.
The Shrine location on the Google Maps: Alqosh.
Visualization of the shrine transformation.
For more information see ARCH website Project Description, GALERY and VISUAL ESSAY: Stand with Nineveh
The Czech financial donation project contributed to the restoration of a unique historical monument in the cradle of civilization: Czech Consulate General in Erbil