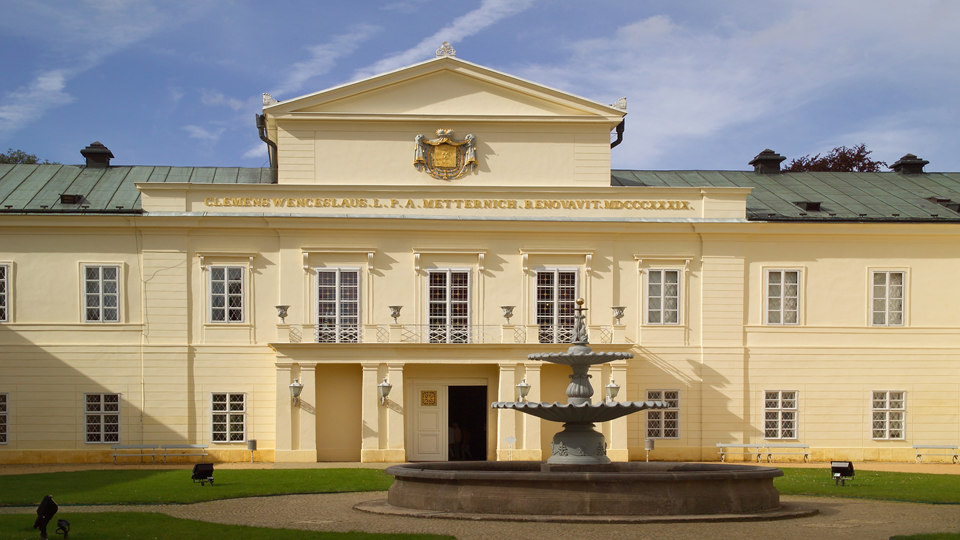 Address:

Castle Kynžvart, Kynžvart

Client:

Heritage Institute, Plzeň / Konstruktiva Group, KONSIT a. s.

Description of works:

Restoration and conservation works
Chateau Kynžvart is one of the most important national cultural monuments with international overlap in the Czech Republic. The chateau was awarded the EUROPA NOSTRA prize in 2001, part of its collections, namely the Kynžvart Daguerreotype, were listed as a UNESCO World Memory in 2017 and it was awarded as a European Heritage Monument in 2020.
The original Renaissance castle was built between 1585 and 1597 by the then owners of the Kynžvart estate, the squires of Cedvice. Apart from the original vaulting and its Venetian plastering, nothing of this building remains. After the Battle of White Mountain in 1620, in which the owner of the castle Kryštof Jindřich of Cedvice stood on the loosing anti-Hapsburg side, the Castle Kynžvart was confiscated. In 1623 the castle was leased to the Catholic Metternich family and subsequently this old German family from Rhineland purchased the property in 1630. In the years between 1681 and 1691 the castle was rebuilt in the Baroque style and gained the appearance of an aristocratic country home. The most important era in the castle's history was undoubtedly the time when it was owned by Klemens Wenzel Metternich (1773 – 1859), the minister for foreign affairs and, during the years 1821 to 1848, the State Chancellor of the Austrian empire. Count Metternich entered the history books as an able politician during the Napoleonic wars and the initiator and chairman of the Congress of Vienna (1814 – 1815), which reshaped European territorial arrangement after the defeat of Napoleon.
The work was carried out in two stages in the years between 1998 and 2000. Stage one involved renovation of the interior. Restoration work was targeted mainly on examination and the subsequent renovation of the original wall decoration, which was uncovered under more recent layers of overpainting. Other specialist tasks concerned stucco renovation and conservation of the original pillars in the castle's corridor and of two fireplaces. Some demolition work was undertaken to remove unsuitable later partitions in some rooms of the castle. Carpentry work was required mostly within the side wings of the building, where the wooden doors were newly recessed. Metal work involved repairs to the original metal fittings of the doors and manufacture of copies where required. The aim of the reconstruction of the façades was to recreate their Empire style appearance, which they acquired during the rebuilding of the castle in 1839. We also participated in the repairs of the courtyard fountain and work in the cour d'honneur (Court of Honour). All intervention had been approved by the staff of the National Heritage Institute office in Plzeň.
A short video report of the caste opening after the restoration of the interior in September 1999.