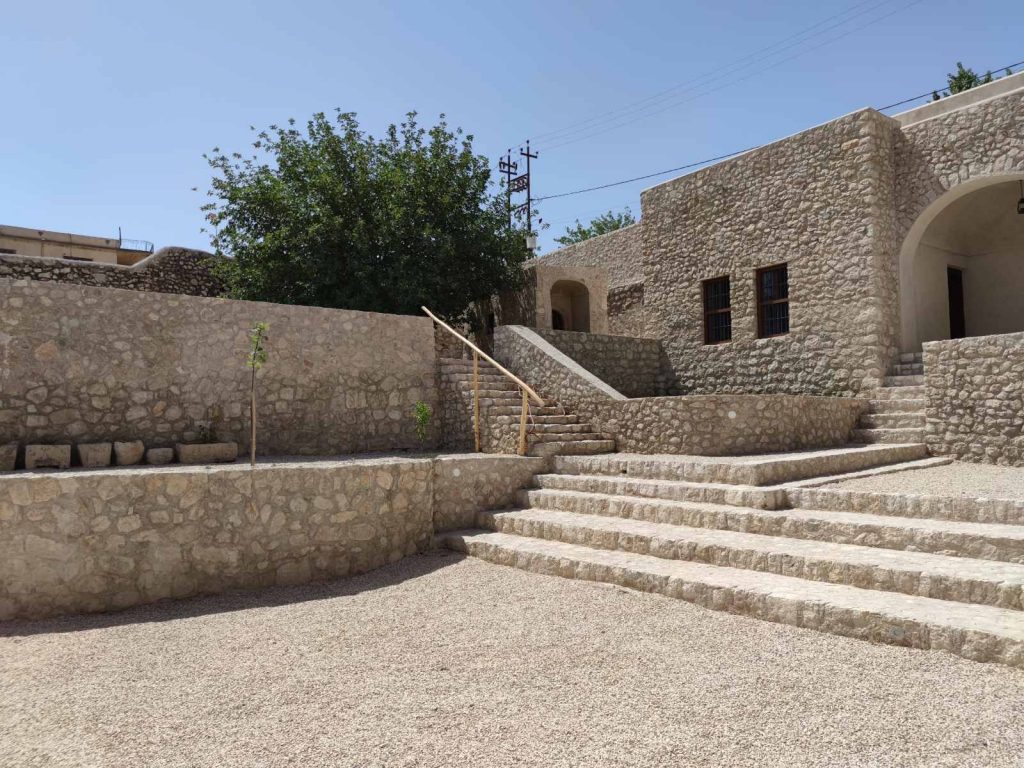 Description of the works:

Nahum Shrine Adjacent Area Restoration
In June 2019, the project for the rescue of the shrine of the Prophet Nahum was contractually extended with ARCH to include Phase III, the subject of which was the reconstruction of the entire adjacent area. The U.S. and Czech governments contributed funding for the project.
Phase III (May 2019 to /April 2020/June 2021)
During Phase III, the demolition of non-native elements, debris clearing, grouting and repointing of cracks, reconstruction of collapsed masonry, reconstruction of collapsed vaults, reconstruction and insulation of the roof, including the construction of rainwater catchment and drainage throughout the site, reconstruction of the enclosure wall, reconstruction of the inner courtyard and the sanctuary surroundings, including electrical installations. During the sensitive reconstruction, the preserved structural, as well as wooden and metal elements were preserved and restored. The restoration work was carried out in accordance with UNESCO principles.
Due to the worldwide pandemic COVID 19, the works had to be suspended for more than a year. They could not be completed until June 2021.
The shrine is located in northern Iraq in a small Christian town that has a history of more than 2,800 years. Alqosh (Syriac: ܐܲܠܩܘܫ, Hebrew: אלקוש, Arabic: ألقوش). The city is part of the province of Nineveh and lies about 45 km north of its capital Mosul. The city is mentioned in the Old Testament in connection with the prophet Nahum of Elkosh, who preached in the Assyrian Empire between 726-697 BC, and who prophesied the demise of Nineveh.
Links:
The Shrine location on the Google Maps and a 3D view of the city from a dron over the finished project site.
Visualization of the shrine transformation.
For more information see the ARCH website.
The Czech financial donation project contributed to the restoration of a unique historical monument in the cradle of civilization: Czech Consulate General in Erbil