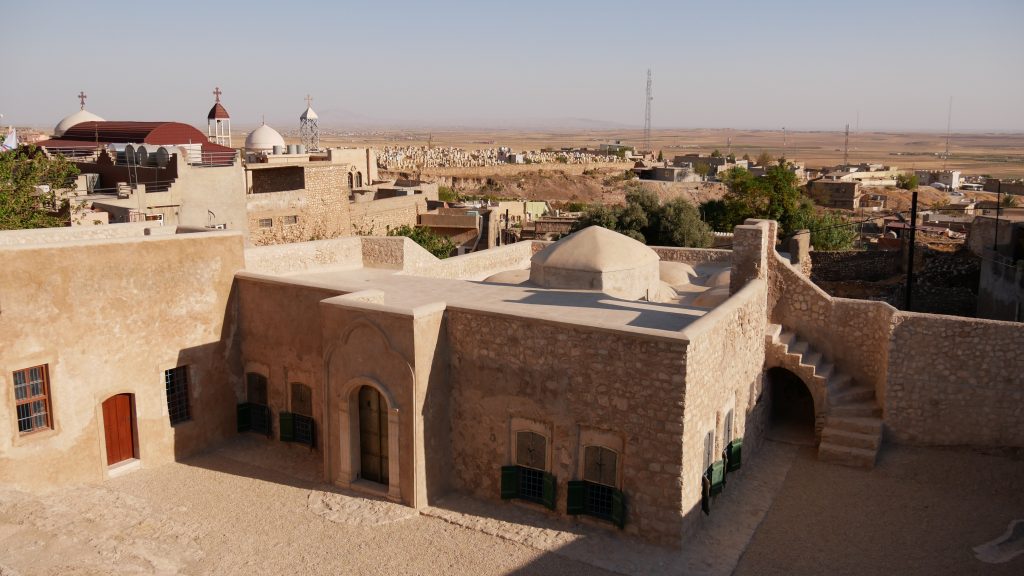 Address:

Alqosh, Nineveh Province, Republic of Iraq

Client:

ARCH – ALLIANCE FOR THE RESTORATION OF CULTURAL HERITAGE

Description of the work:

Conservation, Restoration and Construction
In December 2018, Phase II was initiated, the aim of which was the comprehensive rescue of the shrine with the tomb of the Old Testament prophet Nahum; strengthening of the historical masonry, columns, reconstruction of collapsed parts and vaults from the original stone elements.
Phase II (November 2018 to /April 2020/June 2021)
During the second stage, the building's foundations were structurally secured, cracks were grouted and re-grouted, disturbed columns and pillars were repaired and straightened, the ceiling structures were exposed and the existing vaults were reinforced, the collapsed masonry walls were reconstructed, the collapsed vaulting and vaults were reconstructed, the roof was reconstructed and insulated, including rainwater catchment and drainage. During the sensitive reconstruction of the building, restoration of the surviving decorative and architectural elements, inscriptions, wooden and metal elements was carried out. The badly damaged west door was restored for the intended exhibition. A replica, including locks, was made in its place. The heavily deformed wrought-iron grille in the centre of the sanctuary was restored, as were the wrought-iron holders of the oil lamps. Replicas of the glass oil lamps made in Czech glassworks were fitted into the lamps after the work was completed.
Due to the worldwide pandemic COVID 19, the work had to be suspended for more than a year. They could not be completed until June 2021.
The shrine is located in northern Iraq in a small Christian town that has a history of more than 2,800 years. Alqosh (Syriac: ܐܲܠܩܘܫ, Hebrew: אלקוש, Arabic: ألقوش). The city is part of the province of Nineveh and lies about 45 km north of its capital Mosul. The city is mentioned in the Old Testament in connection with the prophet Nahum of Elkosh, who preached in the Assyrian Empire between 726-697 BC, and who prophesied the demise of Nineveh.
Links:
The Shrine location on the Google Maps and a 3D view of the city from a dron over the finished project site.
Visualization of the shrine transformation.
For more information see the ARCH website.